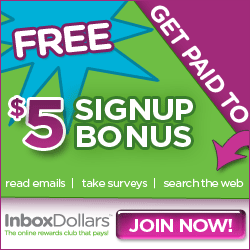 You can't help but wonder when you look at the site — is Inbox Dollars legit? It actually is. You really can earn money there, although it may build up rather slowly depending on what you do on the site. But just as it is with Swagbucks, the time it takes to participate is minimal.
Currently Inbox Dollars is open to US only. But, if you're in Canada, you can sign up at Daily Rewards (the Canadian version of the site).
Here's how you can earn actual cash money with Inbox Dollars:
Get a $5 bonus just for signing up!
Surveys
Games
Shopping
Videos
Tasks
Coupons
Offers
Referring Friends
Opening Emails
Downloading and Using the Toolbar to Search
They add more ways on a regular basis!
As you can see, many of the ways you can earn here are similar to how you can accumulate points on Swagbucks. The more of these things you do, the more you can earn.
I personally only do the emails and the videos because those take the least time and I get about two cents for every email I open and every video I watch. In my opinion, that's some pretty quick easy cash that builds up over time. I also earn referral credits whenever anyone signs up under me, and the fact that you can integrate your Inbox Dollars account with Facebook helps with this because if I earn cash for doing some things, it appears in my news feed. People get curious, click the link, and sign up themselves.
A Note About the Paid Emails
Despite being called "Inbox Dollars," it appears they no longer send out the paid emails. I haven't received one in over a year.
Inbox Dollars Videos
I also want to talk about this feature because it's so very easy to do. When you log in, go to the videos section and you'll be taken to a page to fill out a quick, three question survey. After you do that, the video links will appear.
Most videos pay two cents each and last between five and thirty seconds. Just click the button to play each video and while you're watching, look for the numbers to scroll across the side of the screen. There will be two different numbers and they won't appear at the same time, which is why you have to watch closely.
When the video is over, simply put the numbers you remember seeing into the box provided, and that's it! Again, your account will be credited for the videos generally the same day or the next day. Don't panic if your money doesn't appear in your account right away — it will get there.
Inbox Dollars Offers
The people who earn the most from Inbox Dollars also take the time to fill out the various offers. You should create another email specifically for these offers so your personal email isn't filled with junk if you decide to try these. Many are completely free to fill out while others might require a credit card so you can sign up for a free trial.
Getting Paid
You can't get paid by Inbox Dollars until you have accumulated $30. Once you reach the $30 mark, a check will be processed and mailed to you within 20 to 30 days.
As soon as you reach the payout threshold the first time, you'll be promoted to what Inbox Dollars calls a "Gold Member." This means that you'll get a portion of the earnings of members who didn't sign up under someone else's referral link, and you'll also get faster pay so the next time you hit $30, you won't have to wait nearly a month on your check.
The checks for Gold Members get processed within three to nine days after they're requested.
Referring Friends
You can get a 10 percent bonus off whatever your referred friends earn when they do certain things on Inbox Dollars.
Please keep in mind that earning from your friends does NOT affect them negatively. Your 10 percent commission isn't deducted from their earnings — it's a bonus that Inbox Dollars awards to you for referring people to use the site.
Should You Sign Up?
I admit that it took a long time for me to decide to jump on board here. I knew lots of people who were doing Inbox Dollars and constantly telling me how much fun it was and how they had really gotten paid. At the time, I was doing Swagbucks and didn't see any reason to add anything else like it to my plate. However, I ended up signing on anyway and now I'm up to nearly $18.
Even though the money has accumulated a little slowly seeing as how I don't do much else besides videos and paid emails, I don't care because it takes very minimal time to do and I know that I'll need that $30 whenever I do finally get it.
You can definitely accumulate your money here faster than I am if you participate in more than me on the site, but by just doing the emails and the videos, you'll earn a little here and there that will build up slowly over time.
Also, they give you $5 just for signing up! That is one perk a lot of similar sites don't offer and helps to get you a little closer to that $30 mark.
Want to Get Started Earning?
You can sign up here for Inbox Dollars if you're in the US.
Are you in Canada? Sign up at Daily Rewards, the Canadian version of Inbox Dollars.